We Help Find Your Ideal C-Suite Position or Board Directorship
At retained search firms, executives like you have very little clout. Your phone calls go unanswered. Months pass. Nobody cares. Why? Because you are not their client.
For over 10 years, Summit Executive Resources has been turning executive placement on its head — and changing how C-level executives advance their careers or appointments to corporate boards.
Here's How We're Different:
Instead of being retained by companies, we are hired by individual executives just like you. We are your personal representative and advocate, much like how a professional sports agent serves a star athlete.
We provide our executive clients with the high-touch, personal service they need to find the perfect position or board directorship.
Because of our unique model, we can place an executive exponentially faster than is possible using a traditional search process.
Why Summit?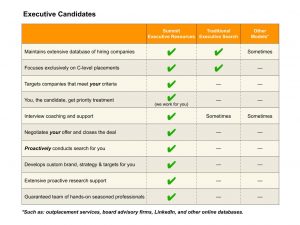 That means we give you greater leverage in the marketplace, even while you are holding down a demanding job or enjoying retirement after a long career. We can dramatically accelerate your search for the perfect position, whether you are looking for a C-level position, or a position on a corporate board of directors.
We do the hard work for you — market analysis, finding opportunities, screening companies, and arranging your interviews. We also provide all the support and advice you need to walk into your interview prepared and confident. Then, we help by negotiating the offer and closing your deal. If you are a CEO with a deal platform or thesis, we will identify and present you to private equity firms who may be interested in serving as a financial partner.
Our unique model has generated intense interest from companies, boards of directors, and private equity and venture capital firms across the country. As a result, we have developed contacts and relationships you will not find anywhere else. As your executive agent, we can open many doors for you that would be difficult to access on your own.