Military Service & Corporate Savvy
James J. Quinn
Independent Director, Arotech Corporation
Rear Admiral, United States Navy, (Ret.) / Northrop Grumman Vice-President
---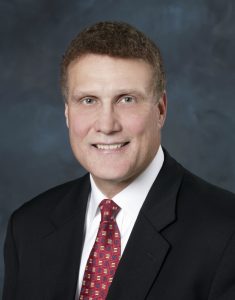 When JJ Quinn retired in 2013, after a decade as an executive with Northrop Grumman Corporation, the former Rear Admiral was eager for a new leadership role. Corporate boards in the defense sector seemed ideal.
At Northrop Grumman, JJ was Vice President, Business Development, Unmanned Systems Division, where he was responsible for the development and execution of domestic and international growth strategies for the newly restructured $3 billion- division. During his ten years with the corporation, JJ also served as director of Navy-Marine Corps programs and was corporate lead executive for the NGC Integrated Systems Sector, as well as Vice President of Business Development for the Military Space Systems Division, and Vice President of Business Development for the Strike & Surveillance Systems Division.
In his 30 years as an officer in the US Navy, Admiral Quinn developed additional specialized skills and expertise. He served tours of duty as Director of Operations, Plans, Policy and Training with the Atlantic Fleet, had a total of five commands (including command of a carrier group and of a nuclear-powered aircraft carrier), was Senior Military Assistant to the Secretary of Defense, Commander of Naval Space Command and served as the Naval Aide to two U.S. Presidents.  Early in his career he was an instructor with the Naval Fighter Weapons School (TOPGUN). JJ graduated from the United States Naval Academy and from the Navy Nuclear Power Program. He received his wings and was designated a Naval Flight Officer at Naval Air Station Pensacola in 1975. Admiral Quinn won the Defense Superior Service Medal, five Legions of Merit, two Bronze Stars, two Meritorious Service Medals, four Air Medals (two Individual with Combat "V"/2 Strike-Flight) and four Navy Commendation Medals (two with Combat "V").
Retiring? Yes. Quitting? No Way
JJ Quinn had served his country as a Naval Officer for 30 years after which he worked as a corporate executive for ten. With his second retirement, family and friends suggested corporate boards as a way for him to stay active and gain new leadership experience. He was interested, but he lacked entrée to the decision-makers. In January 2014, JJ made an inquiry to the National Association of Corporate Directors (NACD) that resulted in a referral to Summit Executive Resources. Summit met with JJ, reviewed his impressive bio and decided it made sense to target aerospace and defense boards for this candidate.
Summit's experience placing former flag officers meant the firm understood that the first board spot is often the most difficult to gain. JJ had a great resume, but he did not have any corporate board experience and had never served as a corporate CEO. That meant Summit would need to target a smaller company in a sector where his experience would directly apply. The Summit process involved developing a focused list of companies in the defense sector with $100 million to $250 million in revenues.  Then the Summit team started reaching out to the decision-makers across the country.
Slow, then Fast
In February 2015, a Summit inquiry to Michigan-based, Arotech's General Counsel received a polite response that no opportunities existed, but they would keep Summit posted.
Summit kept working on JJ's behalf. In October 2015, the outreach started to pay off. Arotech's General Counsel contacted Summit with a request for information about potential board candidates. The Summit team quickly jumped into action and scheduled a conference call that happened within 36 hours of the General Counsel's query. Hours after the call, Arotech leaders reviewed the Summit portfolio of candidates and confirmed Summit had exactly who they were looking for.
Arotech is in the defense and aerospace sector and more than half the company's business is in simulation training — including flight simulation training.  Who better to offer insights as an Independent Director than a former TOPGUN instructor with a decade of experience as an executive in the aerospace/defense industry?
Summit began their research preparation, beyond what is generally available on the Internet. Summit then briefed and prepared JJ for the interview process. Arotech held an initial discussion with JJ in mid-November and by December 2015, Arotech's CEO was in San Diego meeting with the retired Admiral. Soon thereafter, in January 2016, JJ Quinn was in New York meeting with Arotech's Chairman and two Independent Directors.
Although the process appeared to be going smoothly, it was still not definite that JJ would be selected as the final candidate. During the interview, JJ was aggressively tested on his knowledge of board governance and board operations.  The board members also wanted to ensure that JJ had the mindset to ask tough, potentially unpopular questions in the board room.  Through Summit coaching and preparation JJ was able address the board's concerns.
To complicate the pathway just a bit further, Summit and JJ learned that an active investor's influence entered into the decision making process.  Summit was aware of the recent market dynamics of activist investors and was able to coach JJ through the situation. In February 2016, the company announced Admiral JJ Quinn would be on the proxy as an Independent Director for the May 9th election.
While Summit worked two years sourcing corporate opportunities, JJ was also busy on other fronts. The former captain of his baseball team at the United States Naval Academy is now the San Diego Padres' Military Liaison Officer. He also serves as President of The Tailhook Education Foundation, Inc., is a board member of Young America's Foundation Reagan Ranch Board of Governors and is a board member on the San Diego Military Affairs Council (SDMAC) and San Diego Fleet Week.
JJ is very pleased with his independent directorship with Arotech. Meanwhile, he knows Summit is already hard at work sourcing a second independent director chair for him to fill.