We Have Turned Executive Search on its Head
Retained search is broken. Today, middle market private equity and venture capital firms pay high retainers or percentages for a long-protracted process which may or may not be completed. It is little wonder that C-level searches take 8 to 12 months to complete! At Summit Executive Resources, we have a better way.
We maintain a small pool of elite C-level executives who are looking to advance their careers in technology, financial services, consumer packaged goods, and professional services, to name a few industries. Our executives are fully vetted, exceptionally qualified and motivated. If you need a game-changing executive, talk to us. We may have the ideal individual in our executive portfolio today.
Best of all, our services cost you nothing — even if you hire the individual! Under our executive representation model, the executive pays all of our fees. In return, they get a highly targeted, streamlined process. And you get a shot at the best C-level executives in your industry, working in markets around the world.
WHY SUMMIT?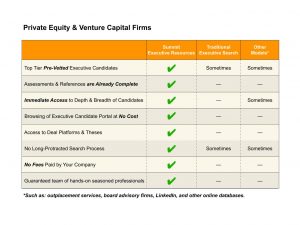 How Executive Representation Works.
Unlike traditional search firms, which are hired by companies, we work for C-level executives who are planning an imminent career move or have interest in corporate board directorships. In addition, we work for C-level executives who have a deal platform or thesis and are seeking a financial partner.
For over 10 years, Summit has partnered with private equity and venture capital firms. Summit provides these firms with a unique service that does not cost the firm anything for hiring executive talent for their portfolio companies – whether for a management team role or independent directorship. Summit is a vital part of the private equity and venture capital value chain. We eliminate one of the most expensive aspects of human capital talent acquisition.
We're Selective Because You're Selective.
At Summit Executive Resources, we are highly selective of the executives we accept into our program. Of course, each individual's employment prospects must be excellent, but they also must pass our rigorous internal testing procedures. We screen every executive using both traditional interviews. This means you get fully vetted, on-target executives — proven leaders who meet your exacting standards.
Elite Executives. No Fees Attached.
Because we are funded by the individuals in our executive portfolio, you pay no fees to interview or hire one of our clients. Tell us about your strategic direction and brief us on your business challenges, and in return, we will deliver top-tier executives as they join our portfolio. You risk nothing, and you can continue to use your current retained search firm, if you wish. By working with Summit, you gain access to some of the best talent in the industry, often before they are even on the market.
"Summit Executive Resources is an integral part of the human capital value chain in public companies, privately-held companies and private equity invested portfolio companies."